Picture: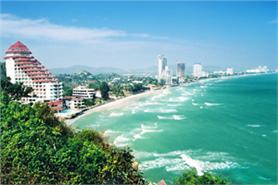 Intercontinental Hua Hin Resort and Sofitel Centara Grand Resort have joined a marketing campaign to promote the Thai city of Hua Hin.
The campaign 'It's In Hua Hin' was launched nine months ago, it now comprises a golf club, vineyard and eight hotels.
Sofitel Centara Grand Resort, originally called the Railway Hotel, debuted on New Year's Day 1923 as the very first hotel in Hua Hin, which is three hours south of Bangkok.
Recently, the Intercontinental Hua Hun Resort has hosted guests including Rafael Nadel.
Pattama Yoshimura, Intercontinental Hua Hin Resort's general manager said: "For us, joining this initiative was about aligning ourselves with the most recognisable brands in hospitality. With the golf and the winery and all the events here now, there's a great new story unfurling, and we want be part of that narrative."
Other properties that form It's In Hua Hin include:
• Anantara Hua Hin beachfront resort
• Banyan Resort
• Banyan Golf Club
• Hilton Hua Hin Resort & Spa
• Hua Hin Marriott Resort & Spa
• Hua Hin Hills Vineyard
• Hyatt Regency Hua Hin
• Sheraton Hua Hin Resort & Spa
For more information on Conference Venues London visit our website.