Picture: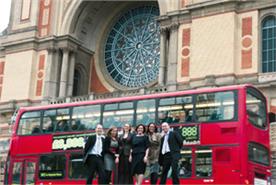 In a bid to put it back at the heart of the events industry, Alexandra Palace has unveiled a new management team and brand.
The north London iconic venue will now be known as Alexandra Palace The People's Palace, to celebrate the varied audiences who visit it and reflect its public ownership.
The new team will be headed by Rebecca Kane, managing director, who has previously worked for English Heritage.
Joining her will be marketing manager Charlotte Johnson, events and leisure director Emma Dagnes and sales director Jon Johnson.
"Our vision for Alexandra Palace is to put it back at the heart of the events industry," said Kane.
"As the only independent venue of our size and type in London, we will be working closely with promoters, exhibition and event organisers to use this wonderful building to its maximum potential," she added.
For the remainder of 2010, the venue will host the World Dart Championship, concerts from lcd Soundsystem and Vampire Weekend and exhibitions including the Doll's House and Miniature Fair and Asian Wedding Exhibition.
The venue is rumoured to be hosting the infamous Holland House Dutch national Olympic committee fans' house for the 2012 Olympics.
For more information on Conference Venues Bristol visit our website.